The live concert atmosphere is an experience that only very few hifi systems can truly reproduce.
Outstanding exception is the equipment from the Swiss company Ensemble.
Handbuilt to the highest possible standards, in a design of timeless elegance,


Ensemble creates a musical universe that is the key to a new way of wellness.


Accessible in your home at any time it becomes a source of new-found energy and inspiration.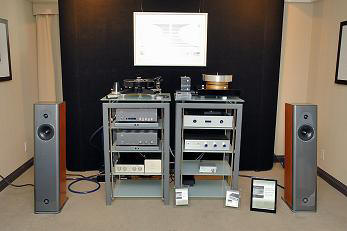 Excel Stereo Ensemble Showroom
The Ensemble Concept

Why does Ensemble sound so real, so close to 'live', so naturally musical – so different from most hifi? Why can Ensemble perform this magic practically independent of room size and conditions?

Link to Page
The Ensemble History
Profile of Ensemble AG, Switzerland
Link to Page
Speaker

NATURA (On display, in stock at Excel Stereo)

floor-standing speaker (103 cm tall)
time-aligned dynamic two-way system
extended frequency response, 33 Hz - 28 kHz
bass reflex design
minimal phase, quasi point source
easy load (6 Ohm, lowest impedance point)
sophisticated filter design with proprietary
PROCAP™ capacitors and air-core coils
multi-layer aluminum sandwich cabinet
decoupled sandwich footplate
ensemble SYNERGIA™ binding posts
spell-binding natural, highly musical sound,
whether at high or low playback levels
timeless, neat elegance
marries with practically all interiors

CD Player

DIRONDO Player (On display, in stock at Excel Stereo)

CD player with top-loading professional CD Pro-2M drive mechanism

ensemble PROCAP Golden Gate™ capacitors

multi-level decoupling and resonance control

reference quality digital/analog converter with upsampling technology

digital phase inversion by remote or panel control

low-jitter digital output

state-of-the-art one-format design

provides CD playback superior to multi-format players

CD Transport

DIRONDO DRIVE (On display, in stock at Excel Stereo)

Reference quality CD transport (turntable)

with top-loading professional CD Pro-2M mechanism

Bit•Zoom™ signal processing technology

provides re-sampled, practically jitter-free, bit-enhanced digital signalwith 48 kHz, 96 kHz or 192 kHz sampling frequency

digital phase inversion by remote or panel control

digital outputs: 75 ohm coaxial (Swiss precision made)

and 110 ohm balanced (mini-XLR), alternately switchable

ultra-low noise power supply with proprietary isolation transformer

Integrated Amplifier

FUOCO (SONDORO SERIES) (On display, in stock at Excel Stereo)

Control power amplifier (integrated amplifier)

tube / transistor technology

150 W / 4 ohm per channel

isolation-type power transformer

ensemble PROCAP Golden Gate™ capacitors

5 inputs, 1 monitor in / out

ensemble SYNERGIA™ binding posts

remote and manual control for volume

Power Amplifier

EVIVO (SONDORO SERIES) Amplifier

tube / transistor technology

150 W / 4 ohm per channel

isolation-type power transformer

ensemble PROCAP Golden Gate™ capacitors

ensemble SYNERGIA™ binding posts

Pre Amplifier

PREVIVO

fully symmetrical, discrete circuit topology

laboratory grade, ultra-low noise power supply

5 inputs, 1 monitor in / out, two outputs

remote and manual control for volume

Phono Amplifier

FONOBRIO PHONO PREAMP (On display, in stock at Excel Stereo)

P

hono

amplifier (RIAA equalized)

ultra-low noise, high resolution

separate inputs for MC and MM cartridges

externally switchable impedance loading

super stable and fast power supply with

accu-like current reservoir

line level output (gain internally adjustable)
Isolation Transformer
ISOLINK DUO POWER CONDITIONER

Protects the sound quality of two separate sources

2 isolation transformers in one chassis, 175 VA and 250 VA,

mechanically decoupled, in two screened compartments

each with separate input and two outputs in 115/120 V and 230 V

to isolate analog from digital, or digital from digital sources

galvanic separation of primary (wall socket) from

phase correction and suppression of degrading power line interference

can bring dramatic sound improvement

Power Distribution Bar

SCHUKO and Nema 5-15 (US style) models

IEC socket at input allows choice of power cable

blue LED to indicate correct phase

internal connection by large cross-section bus

aluminum chassis for enhanced interference rejection

side brackets hold unit at ideal operational angle

vibration-damping rubber feet (adjustable)

Power Cables
Silinx Extrema Power Cable

(On display, in stock at Excel Stereo)

6 x 1.5 mm2 conductors (2 x L, 2 x N, 2 x E in opposing helical array)

6 x single- + 3 x overall-shield for superlative interference rejection

ultra-low noise floor, resonance damping topology

excellent transfer impedance

low impedance and lowest capacitance

minimal dielectric loss factor

halogene-free, hardwearing and durable sleeve

also ideal for speaker applications

US plug - IEC SCHUKO - IEC

Speaker Cable

Silinx Extrema Speaker Cable (On display, in stock at Excel Stereo)

6 x 1.5 mm2 conductors (3 + 3 in opposing helical array)

6 x single- + 3 x overall-shield for superlative interference rejection

ultra-low noise floor, resonance damping topology

excellent transfer impedance

lowest impedance and lowest capacitance

ultra-fast signal transfer and minimal dielectric loss factor

halogene-free, hardwearing and durable sleeve

A termination 6 mm or 8 mm spades or 4 mm bananas

B termination 6 mm bananas

(connecting to ensemble SYNERGIA binding posts)

B 2.5 m pair A 2.5 m pair

B 3.0 m pair A 3.0 m pair

Analog Interconnect

6 x single- + 2 x overall-shielded for superlative interference rejection

ultra-low noise floor, resonance damping topology

loss factor of dielectric smaller than of Teflon®

for single-ended (RCA) or balanced (XLR) stereo

or 3-channel (3 x 2) applications

halogene-free, hardwearing and durable sleeve

A termination ensemble ALLINO™ RCAs

B termination (Neutrik) XLRs

B 1.0 m pair A 1.0 m pair

B 1.5 m pair A 1.5 m pair

B 2.0 m pair A 2.0 m pair

Digital Interconnect

Digital Interconnects GIGAFLUX

quadruple-shielded

extended bandwidth, ultra-fast

ultra-low noise floor

high-frequency spikes suppression

resonance damping topology

termination ensemble SYNERGIA™ RCAs or BNCs

1.0 m

1.5 m

RCA Plug

RCA Plug ALLINO

(On display, in stock at Excel Stereo)

'all-in-one' ensemble design (modèle déposé)

3 times higher conductivity due to copper center pin

nickel-free, heavy gold-plating of chassis and pin

shielding barrel with clamping action

ground before signal contact (guaranteed with Ensemble jacks)

chuck (see below) securing cable sheath

'elevator' system securing conductors

optional:

• chuck with ID 8.5 instead of 10.5 mm

• cable-protecting spring ID 8.3 mm, gold-plated

• inductor against high-frequency interference

Equipment Platform

ZORBO Isolation Platform (On display, in stock at Excel Stereo)

'brings a new level of clarity'

resonance-damping equipment isolation platform

elegant, innovative design (modèle déposé)

multi-level resonance control

isolating equipment feet from each other

very effective isolation of platform from base it rests on

for equipment up to 20 kg (44 lbs) in weight,

430 (w) x 346 (d) x 38 (h) mm [17"x13.6"x1.5"]

Contact Enhancer

CONTRA+ (On display, in stock at Excel Stereo)

'one drop makes music flow'

enhances and protects electrical contacts

(signal and power connections)

non-toxic, flask of 10 ml,

comes with flask of isopropyl alcohol to clean contacts and

pack of (cleanroom quality) foam swabs

Tube Dampers

'chases microphonic haze'

unique, double action device, made of high-tech

reduces microphonic effects on electron tubes and

shields tubes from electromagnetic interference

for small signal tubes of ECC81, 12AX7 etc. size

Disc Treatment
VISIO Disk Treatment

'makes music shine'
silver disc treatment, antistatic
deep-cleanses discs
improves readability of disc information
protects against blurring
comes with set of high-tech microfiber cloths


Isolation Pads

'clear off resonance blur'

resonance-damping pads, self-adhesive

constrained-mode multi-layer structure

improve the sonic performance of lightly built equipment,

also effective on power reservoir capacitors